Thread Weave Patterns give custom fishing rods unique look.
Make your fishing rod unique! A decorative Thread Weave Pattern is available as an option on most XLH70 Series, Reserve Power Series, Payara Featherweight Series and Cuda Series custom fishing rods. Additional charges of $130 apply.
Thread Weave Patterns give SignatureFishingRods.com fishing rods a special and unique look. To order one simply pick a pattern. Some patterns look better on rods that have larger diameters.
SignatureFishingRods.com will correspond with you if a pattern selected is inappropriate (ie. too big for the rod diameter) for the rod selected. Ultimate detail is provided on all patterns and delivery time is extended up to six weeks on all thread weave orders. You may contact SignatureFishingRods.com by email to see what thread patterns are in stock. Patterns in stock will reduce shipping time.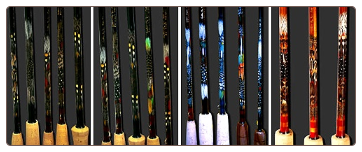 Available Thread Weave Patterns