Roger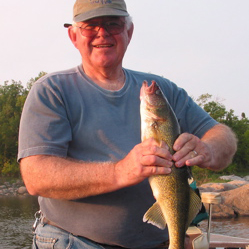 Jeff
Customer satisfaction is our priority. For many, fishing is a pleasure that occurs all too infrequently. It needs to be trouble free. SignatureFishingRods.com works hard to provide quality fishing rods and service making your time on the water worry free.
Fishing was a passion I had early in life. My problem was work. I took my wife musky fishing on our honeymoon which was probably not the best thing to do. She has out fished me for muskies ever since. Her largest was 50 inches caught within 30 minutes after going out on the second morning.
I squeezed in week-long fishing trips whenever I could. For years, Roger and I had our kids with us. Try serious fishing with 4 kids between 4 and 10. I do not regret one moment. The entertainment provided was fabulous. Today 4 of our 5 kids are adept at fishing.
To gain knowledge, I attended many fishing seminars, classes and shows. Conversations with professional fisherman and manufacturers provided insight that helped me understand fishing better. When fishing early on, I learned that fish rarely behaved the way I expected them to behave. After becoming a fan of In-Fisherman and the Linder brothers, Roger and I developed a good sense of what it takes to be good anglers in various circumstances. This is based upon Al & Ron Linders' "Fish + Location + Presentation = Success". I also realized how important good fishing equipment is to catching more fish.
After kids were off on their own, Roger and I fished Texas, Arkansas, Bahamas, Wisconsin, Minnesota, Iowa, Connecticut, Missouri, Ontario, Manitoba, and Costa Rica. Fortunately, each year the time spent on the water tends to increase.
When I retired in 2005, my wife suggested looking into an online business. Because of my experience and passion for fishing, I decided to sell fishing poles. I knew Grandt Industries custom fishing rods were the best fishing rods I had ever used. How could I forget that once I started using high quality, sensitive Grandt fishing rods, I increased the number of fish caught. It was easy to conclude that Grandt Industries custom made fishing poles were the products for me to sell.
Grandt Industries has over 30 years of manufacturing good fishing poles. Its experience in manufacturing high quality rods is evident by the great sensitivity of its custom fishing rods. You will benefit from knowing that if a fish strikes you will feel it. Grandt Industries fishing rods are not only sensitive, but incredibly durable as well. Their durability has been time tested and the rods are still performing. In fact, Grandt is so sure of its products that it offers a lifetime guarantee.
Initially a sole proprietorship, JBS Enterprises has grown by being aware of its customer needs. If you are happy with our product and service, the chance of you being a repeat customer is significantly increased. Click here to begin shopping today!