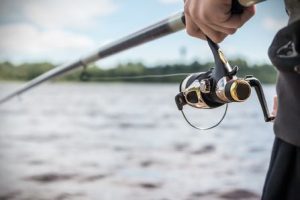 Whether you're an occasional fisherman with one fishing rod or an experienced fisherman with 20 of them, you should make sure you maintain each and every rod you use. It will extend the life of it and ensure that it delivers optimum performance when you're out on the water. Here are some maintenance steps to take to keep your fishing rod in like new condition.
Wash your fishing rod after every use.
After a long day of fishing, you might not necessarily feel like spending time maintaining your rod. However, it's prudent to do it.  All you need to do to wash it is use hot water and a small amount of soap. This will remove any dirt from it and get the salt off it if you were fishing in the ocean. It will only take a few minutes to do, but it will be well worth your time.
Check your fishing rod for signs of damage.
Once your fishing rod is all clean, you will be able to spot signs of damage more easily. You should keep an eye out for scratches on your rod, and replace any portions of the rod that are scratched up beyond repair. A simple way to detect scratches on your rod is to run a cotton ball over it. If scratches are there, the cotton ball will get snagged on it, and you'll know that you have an issue that you need to deal with accordingly.
Store your fishing rod in a rack.
Far too often, fishermen will take a fishing rod and lean it up against a wall in their basement or in a shed when they're not using it. This is just about the worst way to store a rod. It can cause it to warp pretty quickly, and when that happens, it won't be safe for you to use it. You should also take measures to avoid banging your rod against hard surfaces when you're not using it.
If you need a hand maintaining your rod or if you need to obtain a new rod to replace an old one, Signature Fishing Rods can help. Call us at 630-530-8775 today for all your fishing rod needs.