The Best Fishing Rod & Reel Combos
SignatureFishingRods.com has a limited number of high quality fishing reels available. Quality fishing reels have been selected to match the fishing rods offered on this site. Together they make the best fishing rod and reel combos around. Available are Pflueger spinning reels, Penn casting, conventional and spinning reels, and ABU Garcia casting reels.
Use the links below to read what fishing reels are available for each type.
Note on Gear Ratios
Matching a high quality fishing reel with fantastic custom fishing rods requires an understanding of what and how you are going to fish. Each rod and each reel are designed for a specific range of conditions. While most are self explanatory, gear ratios on fishing reels have a huge impact. Consider the following when selecting a fishing reel for a particular fishing rod.
The higher the gear ratio on fishing reels, the faster the retrieve of the bait. A gear ratio of 5.3 means the spool turns 5.3 times every time you turn the handle of the reel 360 degrees (one time). Higher gear ratio fishing reels are excellent if you are fishing a Rat-L-Trap in summer and fall. This is a time when most fish want faster moving baits. Lower gear ratio reels require less effort when fishing deep-diving crank baits.
You need to match the speed of lure or bait with the conditions you are fishing. Normally, a slower retrieve is best in spring and early summer (just after spawn). A faster retrieve is better in the summer and fall.
Remarkable SDX Maxxon Fly Reels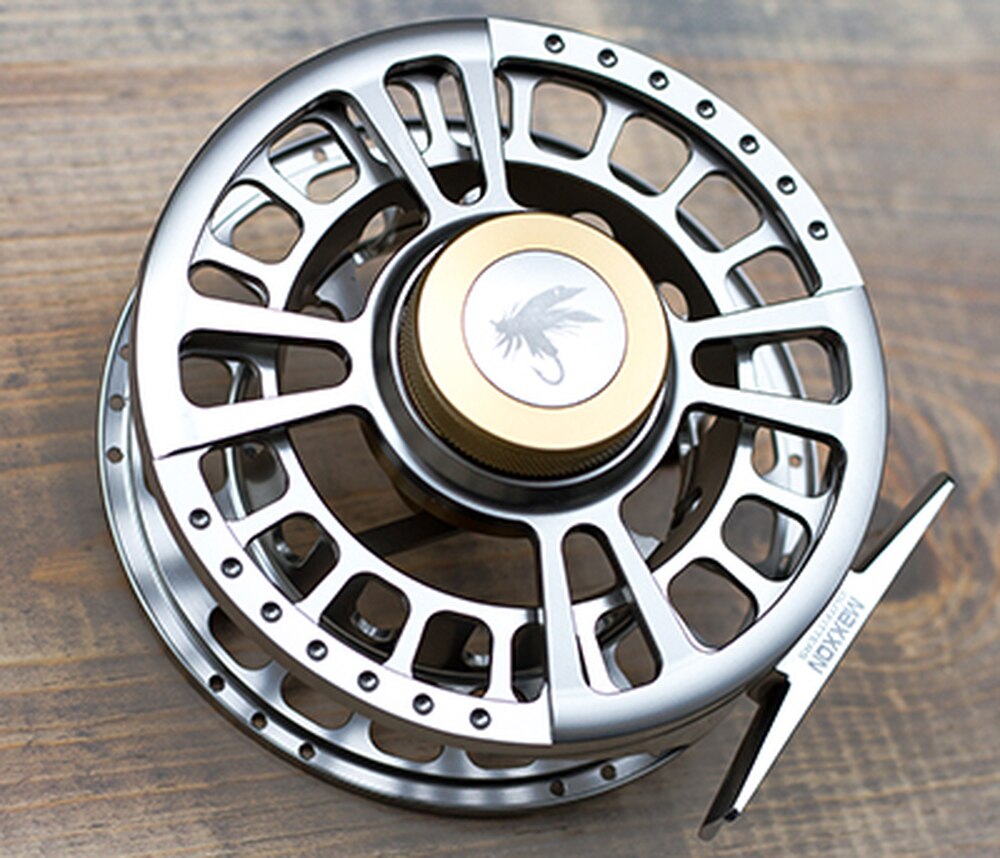 The SDX Maxxon Fly Reel is CNC machined from aerospace grade aluminum then hard anodized in a beautiful two-tone silver and brushed gold finish.  The SDX reel has a fully sealed drag using carbon and non-asbestos disc brakes to help keep it cool. All unwanted elements are kept out by tightly sealing the three bearing system.
These features with tight tolerances  make this reel perfect for saltwater, big game and any other water adventure you have in-store. Available in a four sizes making this reel an easy choice for serious anglers.