Showing all 5 results
Arlington Series Fly Rods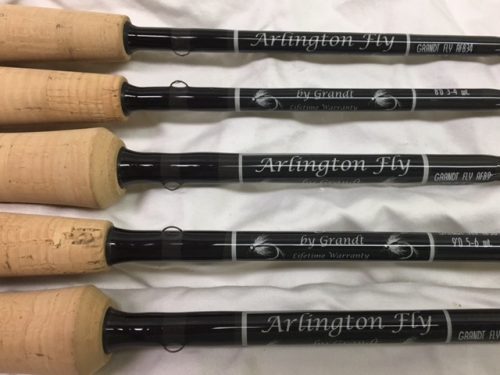 Arlington Fly Rods come with a black cloth covered tube!
The Arlington Fly Series by Grandt Industries uses a 65 million modulus, high strain, carbon fiber blank. It is loaded with features to make this fly rod special. They are:
AA Cork Grips.
CNC Machined Stainless Stripping Guide.
Stainless Snake Guides with Oversized Loop Tip.
Machined up Locking Fly Reel Seat.
Lifetime Warranty – Made in the USA!
The special release Arlington Fly Series was introduced during Grandt Industries 35th Anniversary (2018). Each fly rod has an option for a custom case and cloth bag (temporarily not available).
The limited edition Arlington Fly Series provides a very durable yet sensitive fly fishing experience. The 5 models available are all 4 pieces and are rated between 3 wt. through 9 wt.