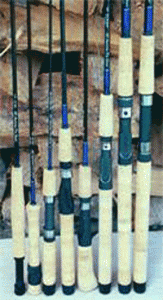 Purchasing a new fishing pole is an important investment. Those who love to fish will often spend a decent amount of money replacing their existing pole with one that will work best for them. Before you decide to pull the trigger on a new fishing pole, you should take the time to consider a few factors. Check out some things you should keep in mind when you buy your next pole.
Length of your new pole
You can find fishing poles in a range of different sizes. They tend to range from about four feet long all the way up to 14 feet long. The length of your pole should depend on what you plan on using it for. If you are going to be casting your line out great distances all the time, a longer pole is best. If you are going to be going after larger fish, a shorter pole might be better. In general, most anglers prefer a pole that is between six and eight feet long.
Material used to make your new pole
Fishing poles are usually made out of either graphite or fiberglass, though some poles feature a combination of the two. Graphite rods are usually the lighter of the two types, but they can also break more easily if you bend them too far. Fiberglass rods, meanwhile, are heavier and almost unbreakable. You will want to choose your material based on what kind of fish you will be going after. Graphite is ideal for smaller fish and lighter bites, while fiberglass is perfect for those who need the durability it offers when chasing larger fish.
Handle on your new pole
The handle that comes on your new fishing pole will usually be constructed out of cork or foam. Choosing the right handle is usually a matter of personal preference, so you will want to test out different ones before settling on the handle that feels the best to you.
Do you need help picking out the right fishing pole? Signature Fishing Rods would love to give you a hand. We have plenty of options and can show you many types of poles. Call us at 630-530-8775 today to test out our selection.