AAP Cast Pistol Grips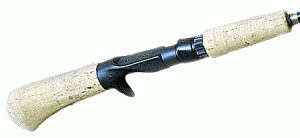 A modification to the All American Pro Series casting rods, The USA made pistol grip was designed  to make casting easier and more accurate. Pistol grips are most appropriate in tight quarters when short casting around boat docks or scattered shallow wood. A 58 million modulus graphite blank with the graphite running lengthwise and  a fast taper design is the signature of all pistol grip fishing rods.
Ten different pistol grip models in varying lengths and actions are available to meet your individual fishing needs.
Pro Anglers and Guides Top Choice
All American Pro Series Casting Rod: Sensitive – Durable.
Features include:
58 million modulus graphite
AA cork handles.
Titanium oxide guides.
Graphite pistol grip reel seat.
Epoxy finished thread wraps.
Unconditional lifetime replacement policy.
Your name inscribed on the USA made casting rod.
Product Key AAP Pistol Grip Casting Rods:
All American Pro Series pistol grip casting rods are by length within power grouping.
The format is: # pieces, length, power, type, line weight, handle and some recommended uses.
No products were found matching your selection.